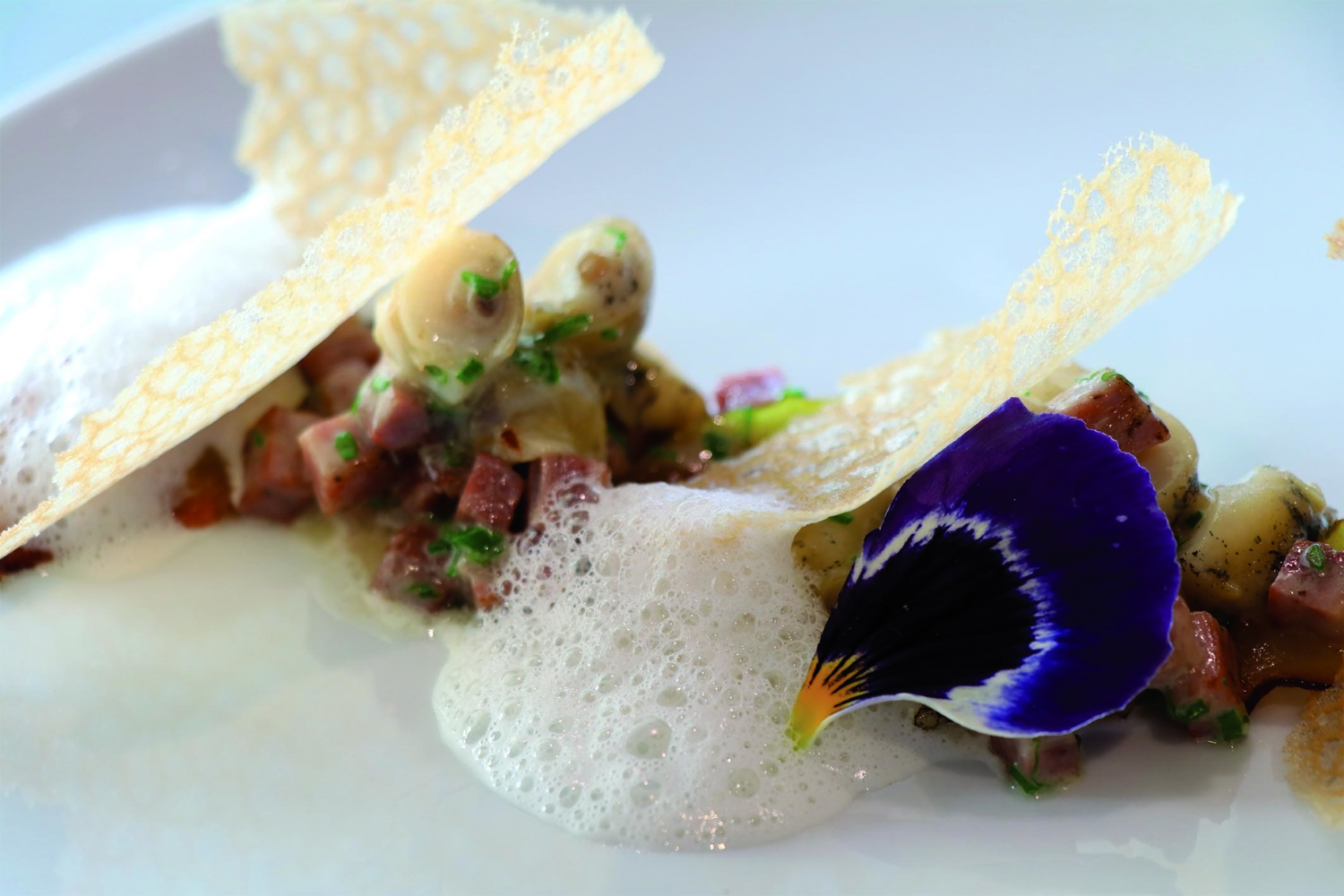 A modern take on the Mille-Feuille with Calvados
Pre­par­a­tion: 25 mins
Cook­ing time: 10 mins
Serves 4
Ingredients
200 g de IGP Gran­ville whelks
1 tart Normandy apple
200 g Vire chit­ter­ling sausage
50 g Normandy honey
25 cl AOC Calvados
10 g flour
2 cl rape­seed oil
½ bunch chives
10 cl milk
30 cl cream
Cook the whelks in a broth, pull them out of their shells, then cut them in two. Quarter the apple and fry gently in a frying pan with the honey. Flambé with 10 cl Calvados, then set aside.
In the same frying pan, fry the chit­ter­ling saus­age, which has been cut into small cubes, then add the whelks and a dash of Calvados. Thick­en with 5 cl cream and, finally, sprinkle over the chopped chives.
In a bowl, com­bine 8 cl Calvados, 10 g flour et 2 cl rape­seed oil. Blend and cook the tuiles in a very hot non-stick frying pan. Put the milk, cream and 10 cl Calvados in a pan. Season, bring to the boil, then whisk into an emulsion.
Place 4 apple quar­ters in a line. Arrange the whelk blan­quette over the apple quar­ters. Inter­pose the tuiles so that it looks like a mille-feuille. Spoon over the Calvados emul­sion and to finish, dec­or­ate with a few sprigs of chervil.
Why is Calvados aged?
Ageing allows the Calvados to devel­op firstly in colour, and then its aromas and length on the palate. A young­er Calvados will tend to have a straw yellow hue and will devel­op very dis­tinct fruit or floral aromas. An old Calvados will, on the other hand, have a more amber colour, remin­is­cent of mahogany, and will devel­op a more com­plex range of aromas with a mix­ture of can­died fruit, dried nuts, car­a­mel or chocol­ate notes.
You can find the answers to all your questions in our FAQ!
FAQ