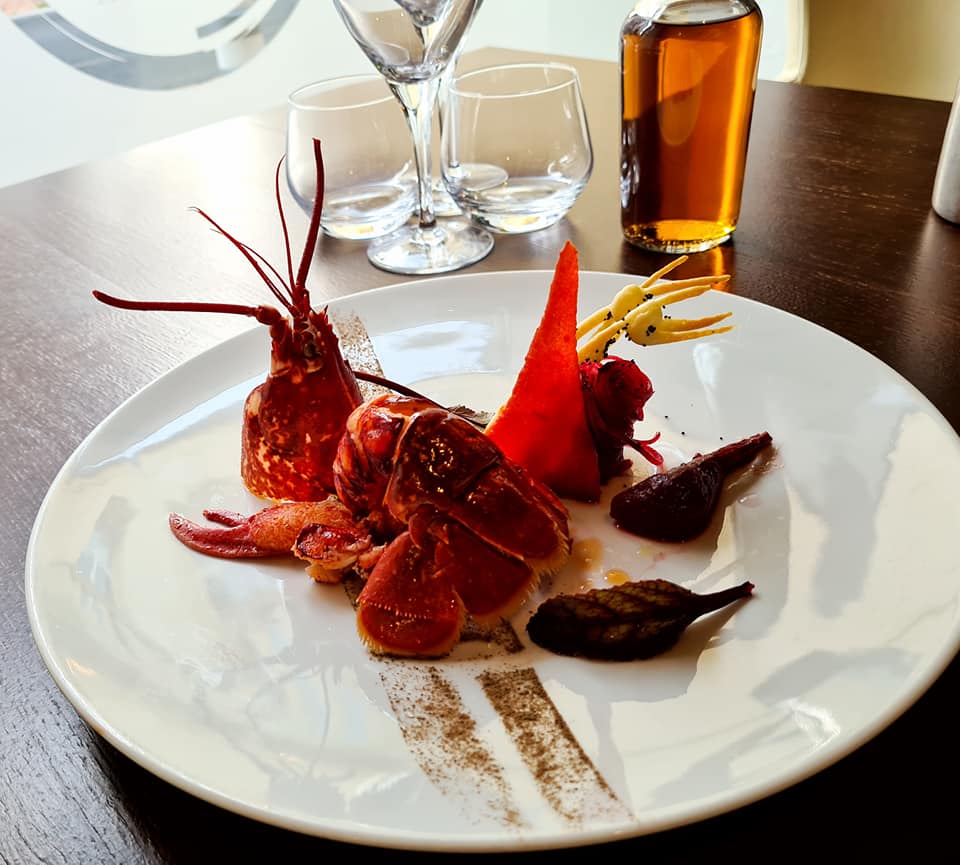 Drinking Calvados → Chausey lobster flambéed with Calvados, served with beetroot & lobster sabayon
Chausey lobster flambéed with Calvados, served with beetroot & lobster sabayon
Pre­par­a­tion time: 30 mins
Cook­ing time: 1 hour 30 mins
Serves 2
Ingredients
1 x 0.5 kg blue lobster
Lightly salted butter
white vinegar
3 whole beetroots
Vinaigrette
250 g lob­ster butter fla­voured with Calvados
50 ml Calvados
60 g egg yolks
130 g egg
5 cl sherry vinegar
5 g salt
Pre­par­ing the lobster:
Cook the lob­ster in the water-vin­eg­ar mix for 3 min, shell the lob­ster, warm the flesh in lightly salted butter on low heat.
Pre­par­ing the lob­ster sabayon:
Brown the lob­ster heads in olive oil, flambé with Calvados, pour over the cla­ri­fied butter, cook for 30 mins then filter.
Com­bine the egg yolks, whole eggs, sherry vin­eg­ar, and the lob­ster butter.
Put the mix­ture in a siphon, charged with 2 cart­ridges of gas, then cook at 63°C
Pre­par­ing the beetroot:
Pre­pare the beet­root in 2 dif­fer­ent ways :
> in quar­ters glazed with veget­able stock
> as raw spa­ghetti seasoned with vinaigrette.
What is a Trou Normand?
In the 19th cen­tury, the "Trou Nor­mand" had an offi­cial place at meal­times, it was a small glass of Calvados served to aid diges­tion during ban­quets and formal meals. Gust­ave Flaubert alludes to this wide­spread custom in his "Bouv­ard et Pécuchet" writ­ten in 1881. Tra­di­tion has it that, midway through the meal, the master of the house invited his guests to raise their half-filled glass of Calvados, smell it and then swal­low it down in one gulp. Today, the tra­di­tion is to serve an apple sorbet soaked in Calvados in the middle of the meal.
You can find the answers to all your questions in our FAQ!
FAQ