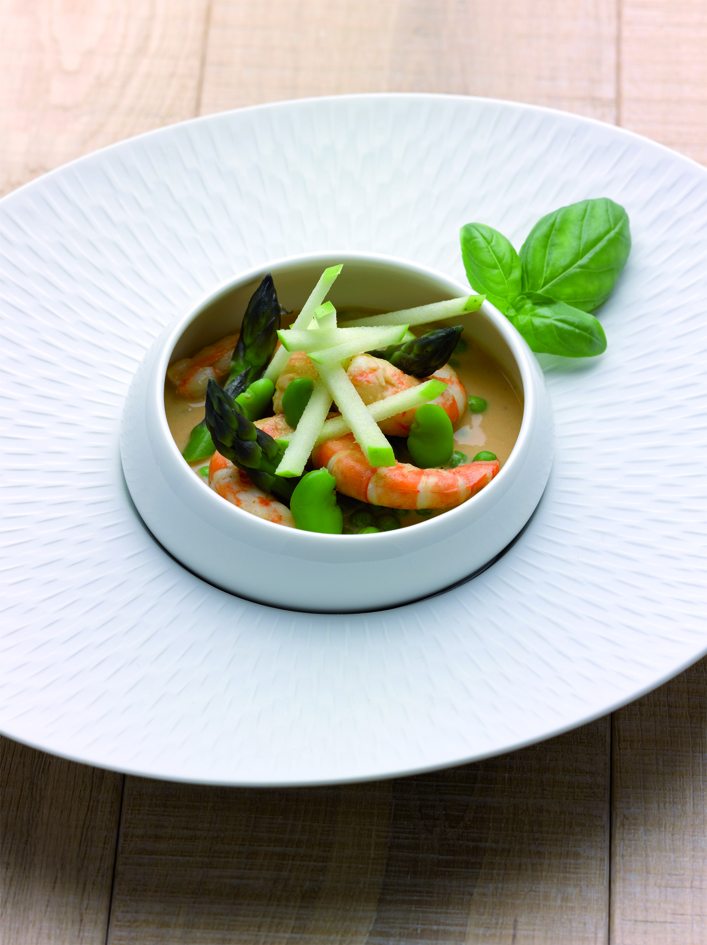 Curried king prawns with coconut milk & Calvados Fine
Pre­par­a­tion time: 35 mins
Cook­ing time: 1 hour 25 mins (+ 1 hour to marinate)
Serve 4
Ingredients
12 whole king prawns
2 sticks lemon grass
1 tsp curry paste
1 tsp tomato purée
50 g fresh ginger
1⁄4 litre coconut milk
12 green asparagus tips
200 g shelled green peas
100 g shelled broad beans
25 cl Calvados
1 Granny Smith apple
Fresh basil
Peel the prawns, and remove the vein by cut­ting along the back of the prawn. Leave them to mar­in­ate with half the Calvados in the refri­ger­at­or for 1 hour. In a pan, heat the oil up until it is smoking hot, and then brown the prawn shells and heads. Crush them down well to extract the max­im­um amount of juice. Flambé with the rest of the Calvados. Add the chopped lem­on­grass and ginger. Brown well. Add the tomato purée and curry paste. Cover com­pletely with water.
Leave to simmer on low heat for 1 hour.
Bring a pan of salted water to the boil and blanch the asparagus tips, green peas and broad beans. Then shock the veget­ables in iced water. Peel the broad beans a second time.
Strain the prawn stock through a con­ic­al sieve. Reduce this stock by ¾ and then add the coconut milk. Leave to reduce until the coconut milk thickens.
Add the prawns and the mar­in­ade to the coconut milk stock and heat on low heat for 5 mins, then add the veget­ables with the fresh basil, for just long enough to heat through.
Juli­enne the apple and pour over a little of the Calvados.:
Serve, like a soup, in shal­low bowls and arrange the juli­enne of apple over the top.
Is Calvados an apple eau-de-vie?
No. Calvados is a cider or perry eau-de-vie and not an apple or pear eau-de-vie — i.e. it is obtained from fruit that has already been fer­men­ted. It is depend­ent on the terroir, the vari­et­ies har­ves­ted, their qual­ity and quant­ity, and the nature of the cider or perry made from these fruits.
You can find the answers to all your questions in our FAQ!
FAQ