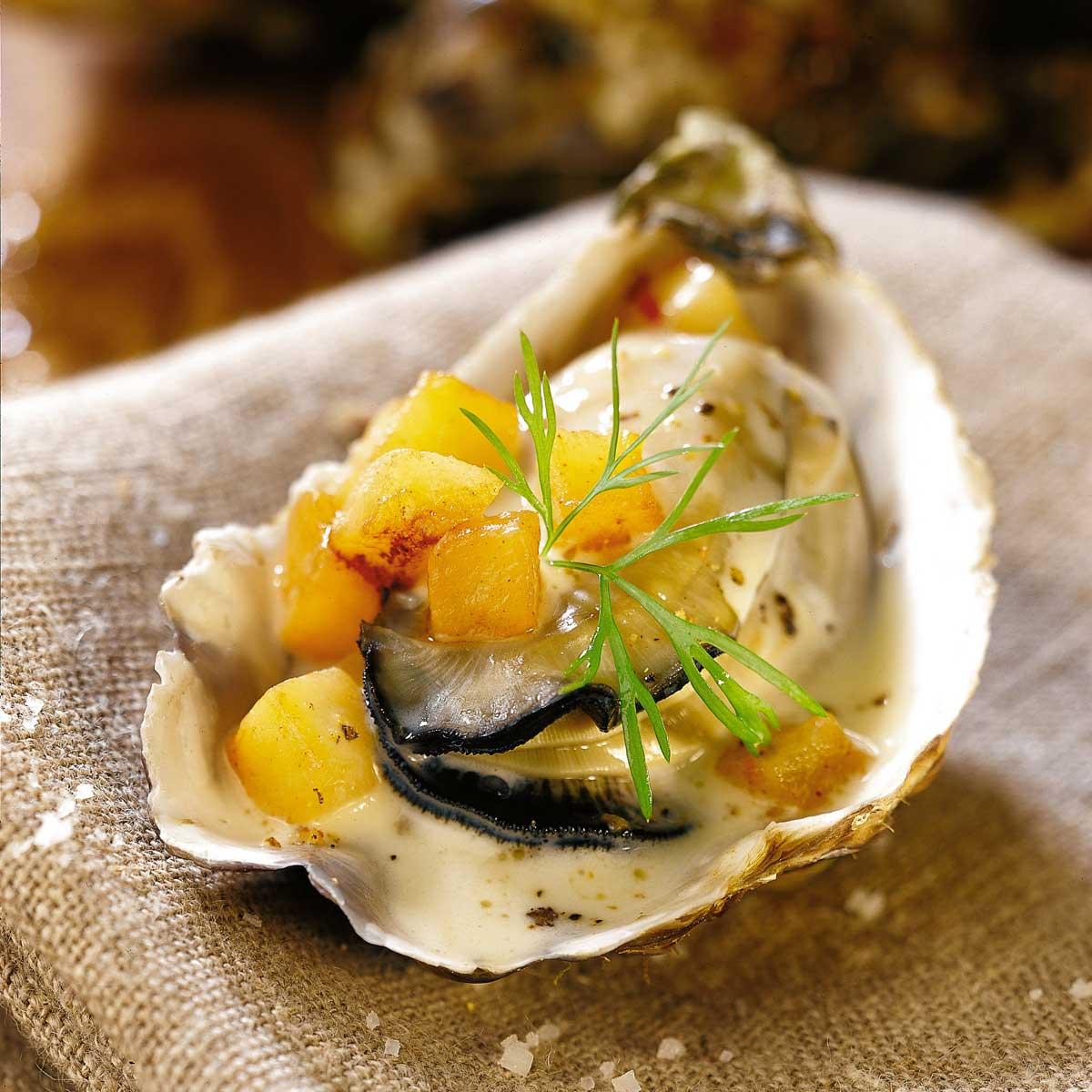 To pre­pare in advance:
Peel, and core the apples and cut into small cubes. Put the cubes in a pan with the Calvados and butter, cook on high heat for 2–3 mins. When they start to brown, take them off the heat. Put 4 small piles of coarse salt on each plate.
10–15 mins before serving:
Pre­heat the oven to 200°C (th. 6). Open the shell and cut under the oyster to release it, toss away the water. Put 1 tea­spoon crème fraîche at the bottom of each shell, then place an oyster on top with a few cubes of apple. Bal­ance an oyster shell on top of each pile of coarse salt.
To serve:
Bake in the oven for about 1 min. Once the cream has melted, take the oysters out of the oven, sprinkle over some dill, and serve straight away.
What is a Trou Normand?
In the 19th cen­tury, the "Trou Nor­mand" had an offi­cial place at meal­times, it was a small glass of Calvados served to aid diges­tion during ban­quets and formal meals. Gust­ave Flaubert alludes to this wide­spread custom in his "Bouv­ard et Pécuchet" writ­ten in 1881. Tra­di­tion has it that, midway through the meal, the master of the house invited his guests to raise their half-filled glass of Calvados, smell it and then swal­low it down in one gulp. Today, the tra­di­tion is to serve an apple sorbet soaked in Calvados in the middle of the meal.
You can find the answers to all your questions in our FAQ!
FAQ