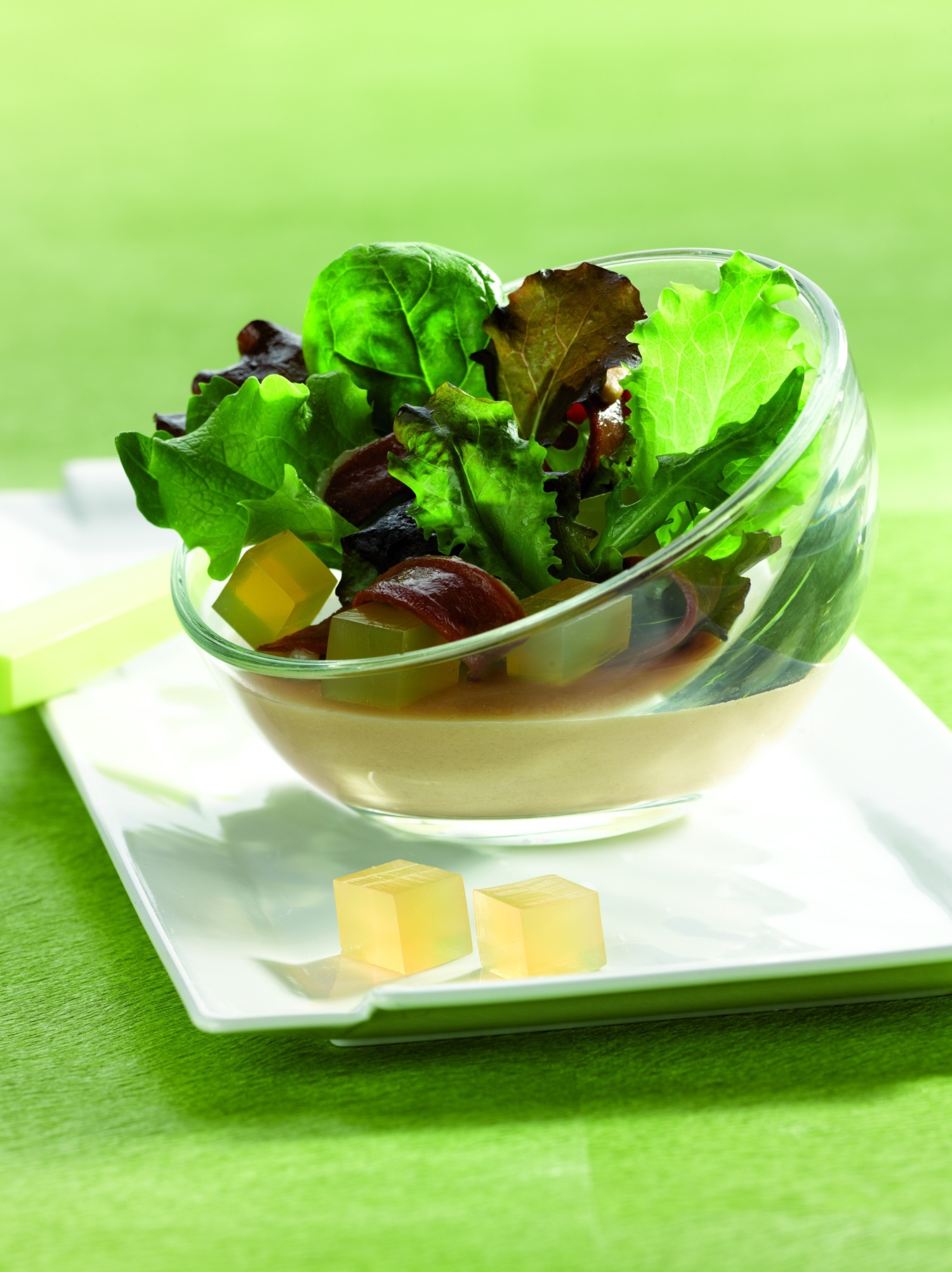 Drinking Calvados → Panna cotta of foie gras, baby salad leaves, strips of smoked duck breast & cubes of apple Calvados gelée
Panna cotta of foie gras, baby salad leaves, strips of smoked duck breast & cubes of apple Calvados gelée
Pre­par­a­tion time: 30 mins
Cook­ing time: 30 mins
Set­ting time: 3 hours
Serves 8
Ingredients
200 g of foie gras (ter­rine, semi-cooked or conserved)
1⁄2 litre chick­en stock or stock cube
15 cl of Calvados
6 slices of smoked duck breast
4 gelat­ine leaves
1⁄4 litre of apple juice
5 cl of Calvados
4 g agar-agar
young shoots
20 g grilled pine nuts
a little hazel­nut oil and sherry vinegar
Pre­par­ing panna cotta: cut the foie gras into cubes. Leave them to mar­in­ate in 15 cl Calvados (30 minutes). Soak the gelat­ine sheets in cold water to soften them. Bring the chick­en stock to the boil. Add the mar­in­ated foie gras as well as the gelat­ine sheets and leave to simmer on low heat for 30 minutes. Mix in the blender, strain through a con­ic­al sieve. Check the season­ing (salt, pepper); Fill each ramekin 3⁄4 full. Leave to set in the refri­ger­at­or for at least 3 hours.
Pre­par­ing the gelée: boil with the apple juice and the agar-agar. Take off the heat and add the Calvados. Pour into a rect­an­gu­lar dish that is around 5cm deep and leave to set in the refri­ger­at­or for at least 3 hours. When the gélée is well set, turn it out onto a board, cut into small 1 cm cubes.
Slice the smoked duck breast. In a large bowl, toss it togeth­er with the baby salads leaves and grilled pine nuts. Drizzle with hazel­nut oil and add a dash of sherry vin­eg­ar. Add a few cubes of gelée. Take the panna cotta ramekins out of the refri­ger­at­or and arrange a hand­ful of duck breast with the baby leaves and gelée cubes on top of each one.
How much alcohol does Calvados contain?
To be leg­ally sold, Calvados must be at least 40% abv. This alco­hol con­tent is obtained by the gradu­al addi­tion of dis­tilled or demin­er­al­ised water to the eau-de-vie. This is known as reduction.
How­ever, some "cask strength" Calvados are unre­duced. They have a "nat­ur­al" alco­hol con­tent cre­ated by the evap­or­a­tion of the eau-de-vie over time. Taken dir­ectly from the top of the barrel, they are usu­ally bottled on demand and show a won­der­ful con­cen­tra­tion of aromas. Some "cask strength" Calvados can con­tain up to 55% vol.
You can find the answers to all your questions in our FAQ!
FAQ