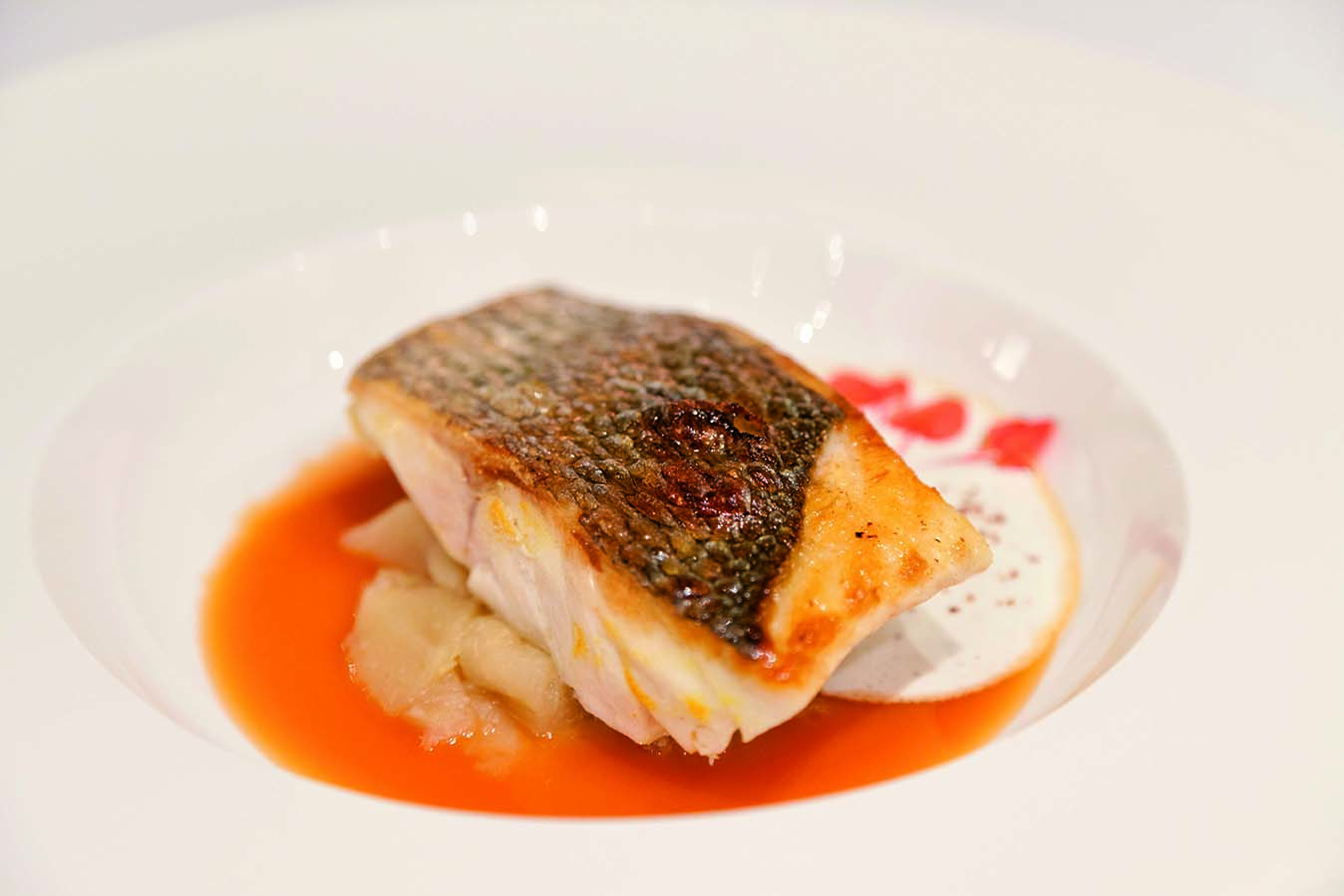 Roast bass, apple & onion chutney & creamy Calvados mousse
Pre­par­a­tion time: 25 mins
Cook­ing time: 1 hour 15 mins
For 4
Ingredients
600g Normandy bass fillets
1.2 kg red onion
160 g Isigny AOP butter
160 g sugar
180 g sherry vinegar
6 Normandy apples
Cider sauce:
Shal­lot, a stick of cin­na­mon, thyme, bay leaf
Pink peppercorns
Dry cider
Calvados
2 onions
20 g Isigny AOP butter
500 g fish bones
Cider gelée
Calvados Mousse:
¼ Calvados
¾ Normandy pour­ing cream
5 sheets of gelatine
Chut­ney :
Bake the onions whole in the oven, peel and slice them. Sweat them in butter for 5 mins. Add the sugar and vin­eg­ar. Reduce for 10 min and add the sliced apples.
Cider sauce:
Cook the fish bones, for 20 mins with all the other ingredi­ents apart from the gelée. Sieve the sauce and reduce by ¾ then add 2 spoons of cider gelée.
Calvados mousse:
Reduce the Calvados. Add the gelat­ine, cream and put it into a siphon. Cook the bar fil­lets with the cla­ri­fied butter.
Present­a­tion:
Place the onion chut­ney with the bar fillet on top in the middle. Arrange the cider sauce and Calvados mousse around this.
What is the minimum ageing time for an eau-de-vie to become Calvados?
The min­im­um ageing time before market release is 2 years in oak bar­rels (and 3 years for Calvados Domfrontais).
You can find the answers to all your questions in our FAQ!
FAQ