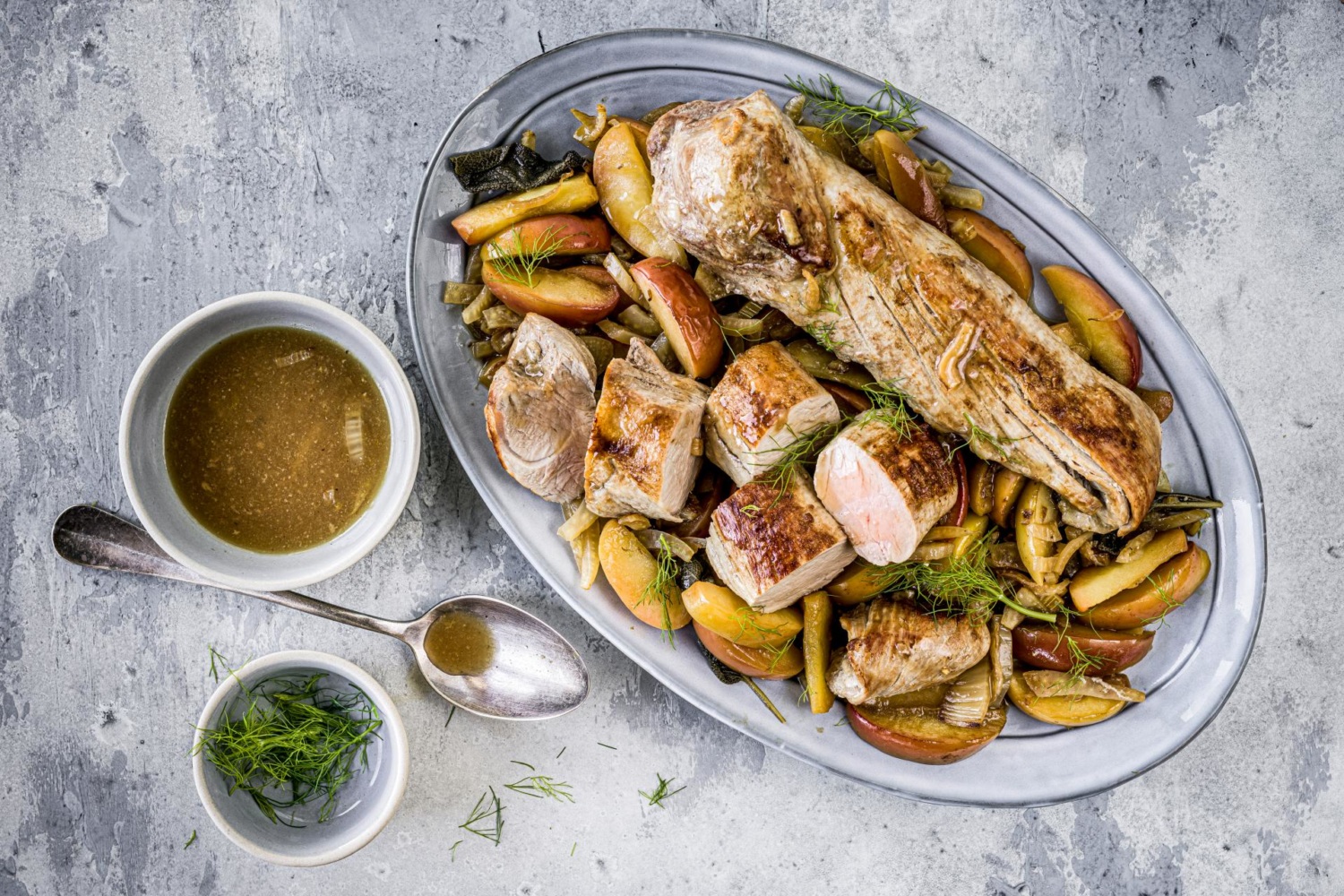 Tenderloin of pork with Calvados
Pre­par­a­tion time: 45 mins
Serves 4
Ingredients
2 pork ten­der­loins (each one about 350 g )
1 tbsp oil for cooking
1 ½ tsp salt
a little pepper
350 g fennel, sliced thinly
500 g apples cut into pieces
2 tbsp sage leaves
2 tsp cornflour
15 cl Calvados
15 cl apple juice
Pre­par­ing the tenderloin
Take the meat out of the refri­ger­at­or about 30 mins before you want to start cook­ing it. Heat up the oil in a non-stick frying pan. Season the meat and sear it on all sides for around 5 mins on medium heat, then lift it out of the pan and put it in a roast­ing tin.
Pre­par­ing the Calvados sauce
Heat a little oil in the same frying pan. Lower the heat and sauté the fennel for around 5 min. Add the apples and sage leaves, con­tin­ue to sauté for a fur­ther 5 mins, season with salt. Dis­solve the corn­starch with Calvados and apple juice and then pour this mix­ture over the veget­ables stir­ring con­stantly, leave it to thick­en on low heat for around 2 mins. Tip the veget­ables and sauce into the roast­ing pan.
Cook­ing in the oven
Pre­heat the oven to 200 °C and cook, on the middle shelf, for around 20 mins.
Can be served with rice.
Can you make Calvados from all types of apples?
No. Unlike table fruit, cider fruit (apples or pears) are small in size and par­tic­u­larly rich in tannins.
Apples are clas­si­fied into four fam­il­ies (sharp, bit­ter­sharp, sweet and bit­ter­sweet). It is the subtle blend of these dif­fer­ent vari­et­ies that gives the cider to be dis­tilled the bal­ance and char­ac­ter that will later be found in the Calvados. All the vari­et­ies of cider apples and perry pears are listed in the appen­dices to each appellation's specifications.
You can find the answers to all your questions in our FAQ!
FAQ