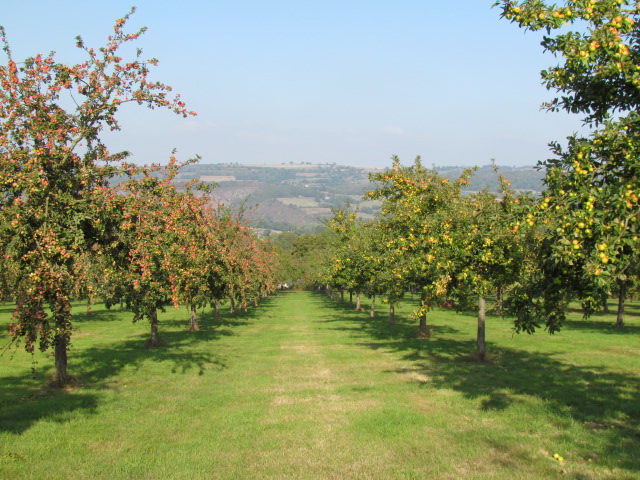 Producers
Cave de la Loterie
---
Our products
Calvados, Pommeau de Normandie, Cider, Perry
---
Address
La Loterie
14570 Clecy
---
Opening hours
Summer opening hours:
Monday to Saturday 9.00-12.30 and 13.30-19.00
Sunday:10:00-12.30 and 15:00- 18:00

Winter opening hours:
Monday to Saturday, 9.00-12.30 pm and 13.30- 19.00
---
Contact
Régis Aubry
Tél. : 02 31 69 74 38 - 06 15 99 77 71
cavedelaloterie@orange.fr
www.cavedelaloterie.fr
---
Languages spoken
French - Basic English
---
More
Online sales
Shop sales
Tours
Groups by appointment
At the Cave de la Loterie (a cider works in Clécy in the Suisse-Normande), Regis Aubry grows and processes organic apples and pears. He is always happy to receive visitors for tastings, tours and direct sales at the property.
Situated on the slopes in Clécy, in the Suisse Normande area, the Cave de la Loterie was founded by Regis Aubry in 1999. It grows and processes around 30 traditional and local varieties of apples and pears. He took over 8 hectares of low stem orchards, planted 4 hectares of high stem apple trees and created his first processing facility. This marked the start of his direct sales.
From the outset, part of the production was transformed into cider and apple juice. Soon, the range was expanded to include Pommeau, Perry and, of course, Calvados. All the orchards have been managed organically since 2009: "that was the start of the conversion". 3 years later, in October 2012, all the Cave de la Loterie's fruit obtained organic status. This important step was also the start a period of regeneration in the orchards, with new plantings every year, including the planting of a young, 4-hectare pear orchard. Today, the farm boasts 23 hectares of organic orchards and all the fruit is processed in the new cider house buildings.
Visitors can taste the fruit of this labour and find other local produce in the Cave de la Loterie's shop.
The cider works is open to visitors all year round (by appointment). During their tour, visitors will learn all about the fruit's journey from the orchard to the Calvados cellar.