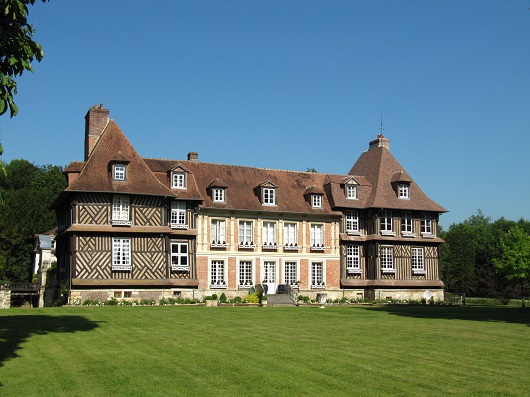 Producers
Château du Breuil
---
Our products
Calvados Pays d'Auge, Pommeau de Normandie
---
Address
Château du Breuil
14130 Le Breuil-en-Auge
---
Opening hours
Every day of the year except 25 Decem­ber and 1 January.
From 9:00 to 12: 00 and from 14:00 to 18: 00

---
Contact

Tél. : 02 31 65 60 00
Fax. : 02 31 65 60 06
info@chateau-breuil.fr
www.chateau-breuil.fr
---
Languages spoken
French — English — German
---
More
Online sales
Shop sales
Tours
Audi­oguides in Rus­si­an, Japan­ese and Chinese
Groups by appointment


This, one of the most prestigious distilleries of Calvados, set in a 16th-17th century château, produces a wide range of Calvados Pays d'Auge and Calvados-based products, from the most traditional to the most innovative.
Set in the heart of the Pays d'Auge, amid 28 hec­tares of grounds pop­u­lated with cen­tur­ies-old trees, Château du Breuil (a listed his­tor­ic monu­ment dating from the 16th and 17th cen­tur­ies) is home to one of the most pres­ti­gi­ous dis­til­ler­ies in Calvados.
Dis­trib­uted exclus­ively through the tra­di­tion­al chan­nels (del­icates­sens, wine stores, hotels, res­taur­ants, bars and lounges) in France and expor­ted to over 60 coun­tries, Château du Breuil pro­duces a wide range of Calvados, from the young­est to the oldest, the most tra­di­tion­al to the most modern and innov­at­ive. Each year Château du Breuil's products pick up numer­ous medals at inter­na­tion­al competitions.
The dis­til­lery run sev­er­al dif­fer­ent guided tours which prom­ise vis­it­ors an unfor­get­table exper­i­ence call­ing on all their five senses. Each tour cul­min­ates in an excit­ing finale when the cellar, the bar­rels, the beams and the walls all come to life. The magic of apples, the magic of fire, the magic of dis­til­la­tion and the Angels' share are revealed in a sen­sa­tion­al sound and light show.
In addi­tion to the clas­sic "Five Senses" tour, Château de Breuil offers "Expert" tours, in which vis­it­ors can enjoy an exclus­ive tour of the entire premises and a present­a­tion of all the products (full details on the web­site). They can even create their own blend of Calvados and take home their unique, per­son­al­ised bottle. Incred­ible experiences!
Events are held through­out the year: check out the pro­gramme on the www.chateau-breuil.fr web­site. There is also a spe­cial app for chil­dren aged 6–12 years old to use during the tour with their par­ents. Down­load from the web­site or on GUIDEEZ Château du Breuil.