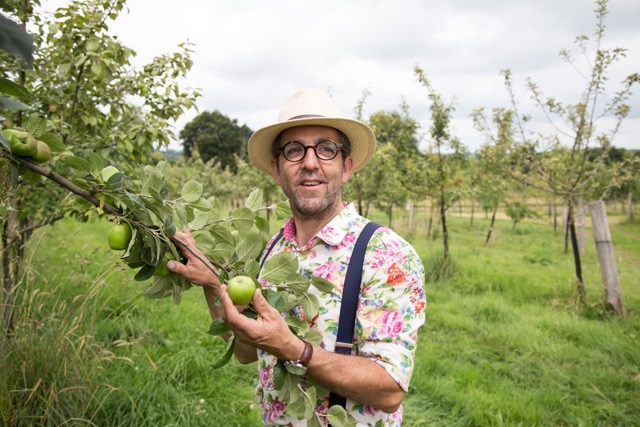 Producers
Cidre Lemasson
---
Our products
Calvados, Pommeau de Normandie, Cider
---
Address
Le Vaucher
50570 Cametours
---
Opening hours
Wednesdays, Thursdays and Fridays from 9:00 to 12:30 and 14:00 to 18:00.
---
Contact
Damien Lemasson
Tél. : 02 33 45 80 73
cidrelemasson@yahoo.fr
www.cidre-lemasson.fr
---
Languages spoken
French
---
More
Online sales
Shop sales
Tours
Groups by appointment
Farm-based, organic and sustainable production. Traditional processing in keeping with ancestral savoir-faire. Modern and engaging marketing.
This small 11-hectare farm is set in the heart of Le Cotentin, 10 kilometres from Coutances. It has 5 hectares of low stem orchards, and 3 hectares of high stem orchards. Cider production is its only economic activity, but for environmental and cultural integrity reasons, they also keep sheep and cattle. This is all part of a family vocation for mixed farming in which livestock farming has always accompanied cider production. I returned to the land in 1998, taking over the organic farming activity that my parents started in 1990.
The entire crop of apples, mainly of the local Le Cotentin varieties (Marin Onfroy, Cartigny, Clozette, etc.), is processed on the farm into apple juice, Cotentin cider, Pommeau de Normandie or Calvados. The products are made with respect for the natural cycles of fermentation: fruit sorting, vatting, slow pressing, fermentation without sulphur, on the lees for ciders to be distilled, oak barrels for the Calvados and Pommeau, natural secondary fermentation for the ciders…
The products are mainly distributed via partner retailers and bars-restaurants, but can also be purchased from the farm's shop.
The farm is open to groups of visitors by appointment, with a fixed charge of 30€ for up to 10 people. The tours from the orchard to the ageing cellar last between 90 minutes and 2 hours, during which visitors will have a chance to taste the farm's 18 different products.