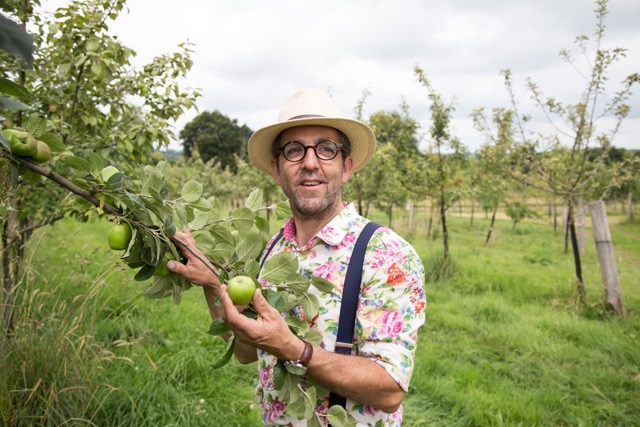 Producers
Cidre Lemasson
---
Our products
Calvados, Pommeau de Normandie, Cider
---
Address
Le Vauch­er
50570 Cametours
---
Opening hours
Wed­nes­days, Thursdays and Fri­days from 9:00 to 12:30 and 14:00 to 18:00.
---
Contact
Damien Lemasson
Tél. : 02 33 45 80 73
cidrelemasson@yahoo.fr
www.cidre-lemasson.fr
---
Languages spoken
French
---
More
Online sales
Shop sales
Tours
Groups by appointment
Farm-based, organic and sustainable production. Traditional processing in keeping with ancestral savoir-faire. Modern and engaging marketing.
This small 11-hec­tare farm is set in the heart of Le Cotentin, 10 kilo­metres from Coutances. It has 5 hec­tares of low stem orch­ards, and 3 hec­tares of high stem orch­ards. Cider pro­duc­tion is its only eco­nom­ic activ­ity, but for envir­on­ment­al and cul­tur­al integ­rity reas­ons, they also keep sheep and cattle. This is all part of a family voca­tion for mixed farm­ing in which live­stock farm­ing has always accom­pan­ied cider pro­duc­tion. I returned to the land in 1998, taking over the organ­ic farm­ing activ­ity that my par­ents star­ted in 1990.
The entire crop of apples, mainly of the local Le Cotentin vari­et­ies (Marin Onfroy, Cartigny, Cloz­ette, etc.), is pro­cessed on the farm into apple juice, Cotentin cider, Pom­meau de Nor­man­die or Calvados. The products are made with respect for the nat­ur­al cycles of fer­ment­a­tion: fruit sort­ing, vat­ting, slow press­ing, fer­ment­a­tion without sul­phur, on the lees for ciders to be dis­tilled, oak bar­rels for the Calvados and Pom­meau, nat­ur­al sec­ond­ary fer­ment­a­tion for the ciders…
The products are mainly dis­trib­uted via part­ner retail­ers and bars-res­taur­ants, but can also be pur­chased from the farm's shop.
The farm is open to groups of vis­it­ors by appoint­ment, with a fixed charge of 30€ for up to 10 people. The tours from the orch­ard to the ageing cellar last between 90 minutes and 2 hours, during which vis­it­ors will have a chance to taste the farm's 18 dif­fer­ent products.