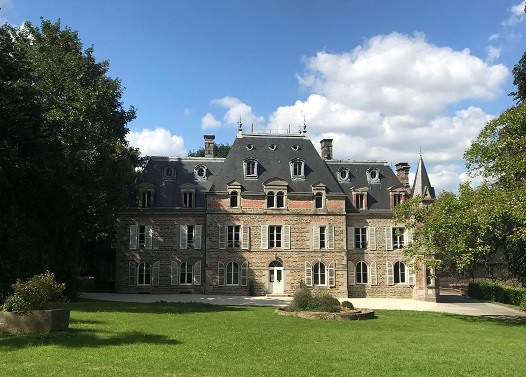 Producers
Distillerie Coquerel
---
Our products
Calvados, Pommeau de Normandie, Cider
---
Address
Manoir du Coquerel - Milly
50600 Grandparigny
---
Opening hours
Monday to Thursday (Off Season) from 9:00 to 12:00 and from 14:00 to 17:30
Monday to Thursday (High Season) from 9:00 to 12: 00 and from 14:00 to 17:30
and by appointment on Fridays and Saturdays.
---
Contact
Pierre Martin
Tél. : +33 2 3379 0220
Fax. : +33 2 33 49 09 60
info@calvados-coquerel.com
www.calvados-coquerel.com
---
Languages spoken
French - English
---
More
Online sales
Shop sales
Tours
Groups by appointment
We have been producing Calvados, Pommeau, cider and gin since 1937 in our family distillery located just a few kilometres from Mont-Saint-Michel.
We proudly uphold the Calvados traditions, but are first and foremost entrepreneurs with a love of innovation. These eau-de-vies have been selected and blended for their unique characters and their aromatic profiles that represent the finest terroirs of Normandy.
This "spirited" family adventure started in 1937 when the first eau-de-vie from Normandy cider and perry were distilled on the estate.
Since 1971, the distillery has been headed by the Martin family, who are firmly committed to upholding traditional production techniques, whilst remaining open to modern innovations.
Domaine du Coquerel has its roots in the heart of the Normandy Bocage, just a few kilometres from Mont-Saint-Michel. The AOC Calvados cider apples come from a unique terroir that has slowly evolved since the 10th century when the first orchards were planted in Normandy.
The blend and the balance of the apple varieties selected for its cider production give Calvados Coquerel its distinctive character.
There are four families of apples: sharp, which bring balance and harmony; sweet, for their sugar; bittersweet, for their tannins; and finally, bittersharp, for their freshness.
At the Domaine du Coquerel, the Martin family knows that a great Calvados can only come from a great cider. It has full control of the entire Calvados production process in a perpetual quest for the perfect balance between the freshness of the fruit and the finesse of the eau-de-vie resulting from its long ageing in French oak barrels.
The apples are carefully selected, harvested and washed before being pressed. The fresh apple juice is then left to ferment naturally on the estate. The master distiller carefully selects the batches of cider once they have reached their optimal maturity, and distils them in one of three copper column stills. The freshly distilled Calvados complete their ageing in French oak barrels where they acquire greater structure and complexity. The cellar master plays an important role in this process, making sure that the wood never masks the apple aromas, but brings them out and enhances them.
Domaine du Coquerel is renowned for producing Calvados of exceptional quality and has been awarded over a hundred medals, including the Grand Prix d'Honneur from the French President, awarded to the best Calvados cellar, which it has received on five occasions.