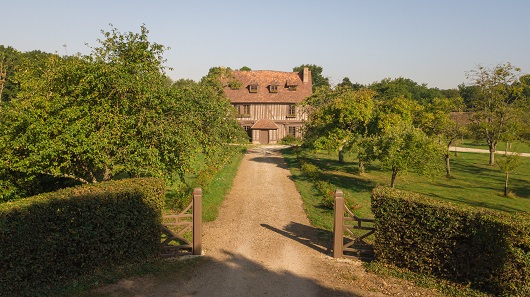 Producers
Domaine de la Mérité
---
Our products
Calvados
---
Address
La Mérité — Gouttières
27410 Mesnil-En-Ouche
---
Opening hours
By appoint­ment. Please call Tel +33 (0)6 12 11 23 21
---
Contact
Olivier Réglade
Tél. : 02 32 44 43 83
Fax. : 02 32 44 23 89
or@esds.com
---
Languages spoken
Français – Anglais — Espagnol
---
More
Shop sales
Tours by appointment
Groups by appointment
This estate produces just one Calvados for sale, a blend of a minimum of 20 years of age. It has picked up awards at the Salon de l'Agriculture in Paris on several occasions. Listed in numerous Michelin-starred restaurants in France.
A rare and authentic Calvados with an enticing character.
Loc­ated in the heart of the Risle valley in the Eure, Domaine de la Mérité is also a stud farm breed­ing Eng­lish thor­ough­bred racing horses and trot­ters. Set amid pas­tures, sev­er­al high stem apple orch­ards supply the yearly pro­duc­tion for Domaine de la Mérité's Calvados.
Texel sheep graze in the orch­ards through­out the year. Sev­er­al apple vari­et­ies are har­ves­ted mainly by hand in order to retain only the very best to create a high-qual­ity cider. This cider is then dis­tilled in a mobile still, set up on the estate for one week each year.
Ageing is car­ried out in oak bar­rels in our cel­lars, over time pro­du­cing an old Calvados from a blend of dif­fer­ent years but all over 20 years old.
The 20-year-old Domaine de la Mérité Calvados is sold in 35, 75, 150 and 300 cl bottles
It is avail­able in many wine stores, Mich­elin-starred res­taur­ants and luxury hotels.
It can be bought on the estate (if the owner hap­pens to be around!)