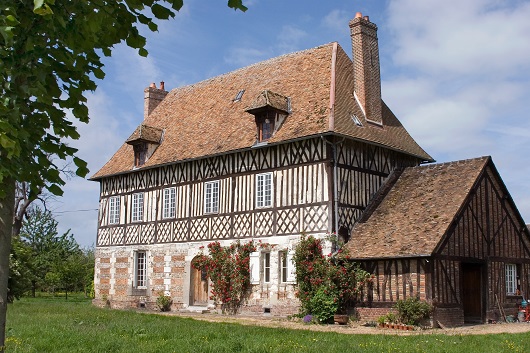 Producers
Domaine des Hauts Vents
---
Our products
Calvados, Pommeau de Normandie, Cider, Perry
---
Address
Impasse des Hauts Vents — Rue de la Londe
27670 Saint-Ouen-du-Tilleul
---
Opening hours
Shop open on Sat­urdays from from 9:30 to 12:00 and from 14:00 to 18:00, week­days by appointment.
In July and August from Monday to Friday from 14:00 to 18:00 and Sat­urday from 9: 0 to 12:00 and 14:00 to 18:00.
---
Contact
Alain Caboulet
Tél. : 02 35 81 53 77
Fax. : 02 35 81 10 67
contact@leshautsvents.com
www.leshautsvents.com
---
Languages spoken
French — English
---
More
Shop sales
Tours
Groups by appointment
The Caboulet family has been perpetuating the tradition of crafting cider-based products on its 17th-century estate for three generations.
Domaine des Hauts Vents was estab­lished in the Calvados appel­la­tion area, in the Rou­mois region of Upper Normandy, in 1936. It pro­duces a broad range of cider-apple and perry-pear based products.
These include cider, ice cider, perry, Pom­meau de Nor­man­die (which has received sev­er­al medals at the Con­cours Général Agri­cole in Paris), a range of oak barrel-aged Calvados, and a Calvados pear liqueur.
We also pro­duce apple and pear juice, cider jelly, cider vin­eg­ar, cher­ries in Calvados and plums in Pom­meau. All of these products are avail­able for pur­chase in our shop housed in an old cellar.