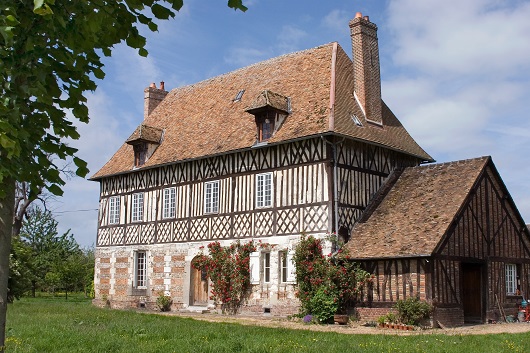 Producers
Domaine des Hauts Vents
---
Our products
Calvados, Pommeau de Normandie, Cider, Perry
---
Address
Impasse des Hauts Vents - Rue de la Londe
27670 Saint-Ouen-du-Tilleul
---
Opening hours
Shop open on Saturdays from from 9:30 to 12:00 and from 14:00 to 18:00, weekdays by appointment.
In July and August from Monday to Friday from 14:00 to 18:00 and Saturday from 9: 0 to 12:00 and 14:00 to 18:00.
---
Contact
Alain Caboulet
Tél. : 02 35 81 53 77
Fax. : 02 35 81 10 67
contact@leshautsvents.com
www.leshautsvents.com
---
Languages spoken
French - English
---
More
Shop sales
Tours
Groups by appointment
The Caboulet family has been perpetuating the tradition of crafting cider-based products on its 17th-century estate for three generations.
Domaine des Hauts Vents was established in the Calvados appellation area, in the Roumois region of Upper Normandy, in 1936. It produces a broad range of cider-apple and perry-pear based products.
These include cider, ice cider, perry, Pommeau de Normandie (which has received several medals at the Concours Général Agricole in Paris), a range of oak barrel-aged Calvados, and a Calvados pear liqueur.
We also produce apple and pear juice, cider jelly, cider vinegar, cherries in Calvados and plums in Pommeau. All of these products are available for purchase in our shop housed in an old cellar.