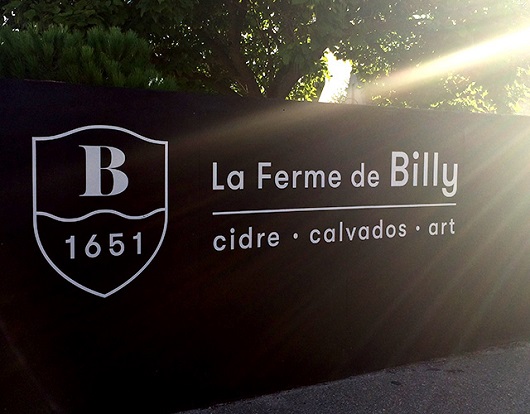 Producers
Ferme de Billy
---
Our products
Calvados, Pommeau de Normandie, Cider
---
Address
26 Bis rue de l'Eglise St Ouen
14980 Rots
---
Opening hours
Tues­day, Wed­nes­day from 10:00 to 12: 30 and from 14:00 to 18:00
Thursday to Sunday from 10:00 to 17:00
Summer open­ing hours: please check on the website.
---
Contact
Olivier Vauvrecy
Tél. : 02 31 26 28 53
contact@ferme-de-billy.com
www.ferme-de-billy.com
---
Languages spoken
French — English — Spanish
---
More
Online sales
Shop sales
Tours
Groups by appointment
Buffet on Thursday and Friday — Brunch on Sat­urday and Sunday
The Ferme de Billy is a brand, a place and a family spirit: authenticity, conviviality, respect for nature and local Normandy traditions, where everyone is welcome, young and old.
Loc­ated in the heart of the com­mune of Rots, the Ferme de Billy has become a true "lieu-dit" in the vil­lage. It boasts over 15,000 apple trees and a bucol­ic set­ting with orch­ards, don­keys, a stream and a small 12th-cen­tury chapel that is part of the estate.
In 2013, Olivi­er and Guil­laume Vauvrecy took over the busi­ness from their father, Henri, aware that they would be per­petu­at­ing a valu­able family legacy. Pre­fer­ring to focus on the qual­ity of the fruit rather than volume, they are com­mit­ted to sus­tain­able farm­ing and to pre­serving the nat­ur­al environment.
Having res­ul­ted in numer­ous awards, their savoir-faire is recog­nised by the res­taur­ant and bar industry and their products are found in the finest res­taur­ants, del­icates­sens and top bars.
In addi­tion to their work cre­at­ing a highly innov­at­ive range of cider-apple based products, Olivi­er and Guil­laume are great art lovers and the estate gives them a large "play­ground" that they like to share with other artists.
This farm, set in a unique and enchant­ing set­ting, is open to visitors.