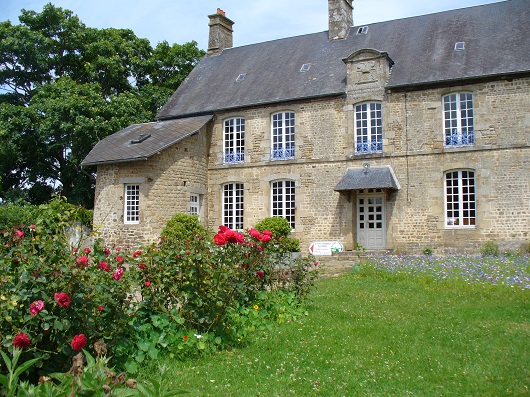 Producers
Ferme de la Motte
---
Our products
Calvados Domfrontais, Pommeau de Normandie, Cider, Perry
---
Address
La Motte
50720 St-Cyr-du-Bailleul
---
Opening hours
From 10:00 to 18:00
---
Contact
Jérôme Lecrosnier
Tél. : 02 33 69 37 17
rochard.lecrosnier@orange.fr
www.gitepaysanmortainais.fr
---
Languages spoken
French — Spanish
---
More
Shop sales
Tours
Groups by appointment
Gîte avail­able for rental
The Ferme de la Motte is a family-owned farm where we take great care of the land and the trees by organic agriculture, replanting hedgerows, harvesting the fruit by hand, cider production using natural secondary fermentation. If the way we do things interests you, then come along and meet us!
The Ferme de la Motte is loc­ated in the heart of the Normandy coun­tryside, one hour from Mont St Michel and 15 minutes from Dom­front and Mor­tain. Our family has lived on this dairy and cider farm for three gen­er­a­tions. The remark­able 18th-cen­tury house is impos­ing and lumin­ous and there­fore makes quite an impres­sion on vis­it­ors seeing it for the first time.
You will find it on our labels and can see it when you come for a farm-stay holiday.
We decided to farm organ­ic­ally in 2008 and this has been accom­pan­ied by the replant­ing of hedgerows and the install­a­tion of sev­er­al bee­hives. We har­vest our fruit by hand with help of family mem­bers and work­ers from the Bar­enton ESET (centre provid­ing care through employment).
Our AOP (PDO) Dom­front per­ries result from nat­ur­al sec­ond­ary fer­ment­a­tion. We delight in pro­du­cing super tasty apple and pear juices, made from a dozen or so vari­et­ies, which are always highly appre­ci­ated. Our range also includes farm ciders, AOC Pom­meau de Nor­man­die and AOC Dom­fron­tais Calvados.
We receive vis­it­ors in our cel­lars by appoint­ment. We always try to create human rela­tion­ships with all our cus­tom­ers, wheth­er local or from abroad.