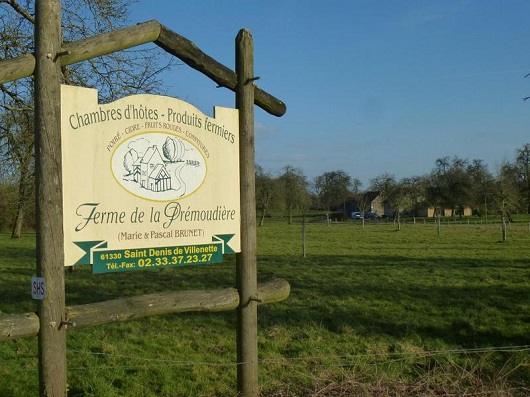 Producers
Ferme de la Prémoudière
---
Our products
Calvados Domfrontais, Cider, Perry
---
Address
La Prémoudière
61330 Saint-Denis-de-Villenette
---
Opening hours
The shop is open every day from 9:00 to 13:00 and from 14:00 to 19:00.
---
Contact
Marie Brunet
Tél. : 02 33 37 23 27
lapremoudiere@orange.fr
www.lafermedelapremoudiere.fr
---
Languages spoken
French
---
More
Shop sales
Tours
Groups by appointment
Bed and Breakfast
The Ferme de la Prémoudière is located in the Orne Bocage, an area known for its unspoilt, rural environment. Its orchards are planted with extraordinary high stem pear trees.
We have lived on the farm for 25 years and today our activity is mainly based on agritourism. We have always produced Domfront perry and Domfrontais Calvados. The fruit is harvested by hand and all our production is carried out in our processing facilities on the farm.
When you visit our farm, you will not only learn about our Calvados production but also our production of red berries. When in season, visitors will be able to purchase our strawberries, blackcurrants and redcurrants, and homemade jams are always available.
The shop is open every day from 9:00 to 13:00 and 14:00 to 19:00.
We also have 5 guest rooms, classified as 3 épis by Gîtes de France, allowing you to enjoy your visit to our farm and tour of the region in comfort.