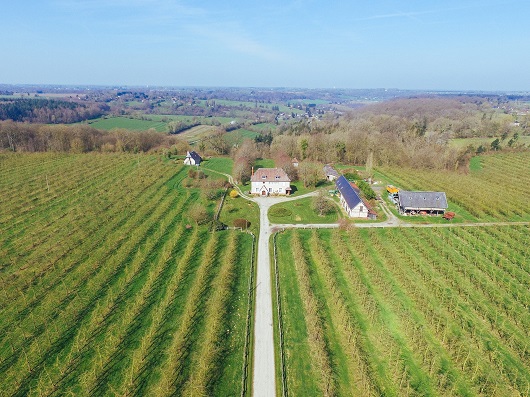 Producers
Ferme du Ponctey
---
Our products
Calvados, Pommeau de Normandie, Cider
---
Address
2159 Côte Deshayes
27500 Triqueville
---
Opening hours
9:30-12:00 / 13:30-19:00
---
Contact
Philippe Jaouen
Tél. : 02 32 42 10 37
2sapins@ponctey.fr
www.ponctey.fr
---
Languages spoken
French -English
---
More
Online sales
Shop sales
Tours
Groups by appointment
Bed and Breakfast
Producers of cider, AOC Calvados and Pommeau de Normandie using only apples from our own orchards. Come along and taste our products on our family farm located in the Pays de la Risle, 20 km from Honfleur.
The Ferme du Ponctey is located on the Lieuvin plateau overlooking Triqueville and its valley near Pont-Audemer in the Calvados appellation area in Normandy. Our mission is to keep alive the tradition of producing authentic alcoholic beverages characteristic of our terroir.
Our products are crafted on the farm with respect for the natural expression of the apples, using traditional fermentation and distillation methods, and focusing on human savoir-faire. Our products are therefore very different from the usual mass-produced beverages.
It is now over 25 years since we took over the Ferme du Ponctey and decided to reconnect with the cider-making history of the location which was the site of a German aerodrome during the Occupation. We therefore planted our orchard around the farmhouse and set up the cider-making facility and ageing cellars in the historic buildings. Two generations of the Jaouen family currently manage and maintain the orchard, harvest the apples and produce our ciders, Calvados and Pommeau, whilst also growing cereals. The "Produit fermier" [Farm produce] label indicates that each step of the production process was carried out on our estate, using only our own apples. This is a guarantee that you will be enjoying authentic products from our terroir with all its specific characteristics.
Our estate shop is open to visitors throughout the year. Here you can try our different products and learn about our savoir-faire in an illustrated commentary.
We also offer bed and breakfast on a traditional Normandy farmstead, 6 km from Pont-Audemer, the "Venice of Normandy" and the birthplace of Pommeau.