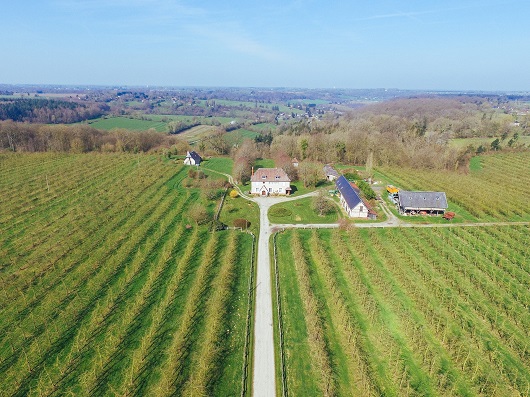 Producers
Ferme du Ponctey
---
Our products
Calvados, Pommeau de Normandie, Cider
---
Address
2159 Côte Deshayes
27500 Triqueville
---
Opening hours
9:30–12:00 / 13:30–19:00
---
Contact
Philippe Jaouen
Tél. : 02 32 42 10 37
2sapins@ponctey.fr
www.ponctey.fr
---
Languages spoken
French ‑English
---
More
Online sales
Shop sales
Tours
Groups by appointment
Bed and Breakfast
Producers of cider, AOC Calvados and Pommeau de Normandie using only apples from our own orchards. Come along and taste our products on our family farm located in the Pays de la Risle, 20 km from Honfleur.
The Ferme du Ponc­tey is loc­ated on the Lieu­vin plat­eau over­look­ing Triqueville and its valley near Pont-Aude­mer in the Calvados appel­la­tion area in Normandy. Our mis­sion is to keep alive the tra­di­tion of pro­du­cing authen­t­ic alco­hol­ic bever­ages char­ac­ter­ist­ic of our terroir.
Our products are craf­ted on the farm with respect for the nat­ur­al expres­sion of the apples, using tra­di­tion­al fer­ment­a­tion and dis­til­la­tion meth­ods, and focus­ing on human savoir-faire. Our products are there­fore very dif­fer­ent from the usual mass-pro­duced beverages.
It is now over 25 years since we took over the Ferme du Ponc­tey and decided to recon­nect with the cider-making his­tory of the loc­a­tion which was the site of a German aero­drome during the Occu­pa­tion. We there­fore planted our orch­ard around the farm­house and set up the cider-making facil­ity and ageing cel­lars in the his­tor­ic build­ings. Two gen­er­a­tions of the Jaouen family cur­rently manage and main­tain the orch­ard, har­vest the apples and pro­duce our ciders, Calvados and Pom­meau, whilst also grow­ing cer­eals. The "Produit fer­mi­er" [Farm pro­duce] label indic­ates that each step of the pro­duc­tion pro­cess was car­ried out on our estate, using only our own apples. This is a guar­an­tee that you will be enjoy­ing authen­t­ic products from our terroir with all its spe­cif­ic characteristics.
Our estate shop is open to vis­it­ors through­out the year. Here you can try our dif­fer­ent products and learn about our savoir-faire in an illus­trated commentary.
We also offer bed and break­fast on a tra­di­tion­al Normandy farm­stead, 6 km from Pont-Aude­mer, the "Venice of Normandy" and the birth­place of Pommeau.