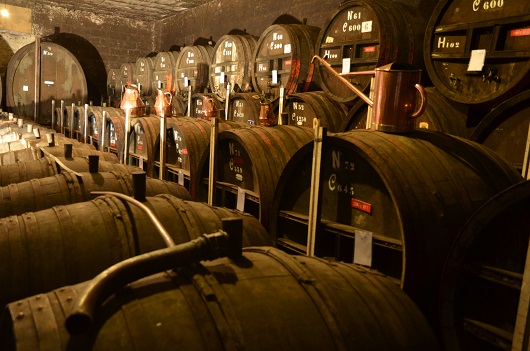 La Maison du


Père Tranquille
Producers
La Maison du Père Tranquille
---
Our products
Calvados, Pommeau de Normandie, Cider, Perry
---
Address
4 Bis rue Beaulieu
27350 Routot
---
Opening hours
Monday 9:00 - 12:00 / 14:00 - 17:30
Tuesday to Friday 8:30-12:00 / 14:00-17:30
(an appointment can be made outside these hours)
 
---
Contact
Marion Bellet
Tél. : 02 32 57 36 80
Fax. : 02 32 56 08 83
contact@peretranquille.com
www.peretranquille.com
---
Languages spoken
French
---
More
Online sales
Shop sales
Tours
Groups by appointment
Maison du Père Tranquille has been distributing quality Normandy products, in particular Rollon Calvados, aged in its own cellar in Routot, for three generations.
Maison du Père Tranquille was founded in Routot by Maurice David in 1946.
Located in the heart of the Roumois area, our family business is specialised in the distribution of beverages, particularly fine wines and Normandy products. Our range of high-quality blended Calvados has picked up numerous awards, notably from the World Spirits Competition.
Our specialties include "Hors d'âge" Calvados and our new releases, Calvados arrangés by Rollon (flavoured/infused Calvados) and "Les Délices de Rollon" (chocolates containing Calvados Rollon).
We also produce Pommeau de Normandie, craft ciders and perries, organic apple juice.
We can receive visitors wishing to purchase our products on-site but we do not yet have a shop.
Nearby, you can also pay a visit to the Linen Museum in Routot, see 1,000-year-old yew trees in Haye-de-Routot and check out other interesting tourist attractions.
Routot is located just off the two motorway exits of Bourg Achard and Bourneville on the A13.