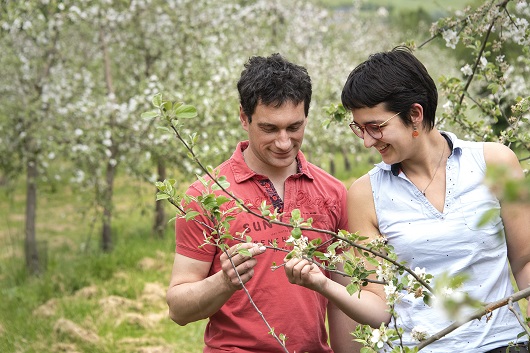 Producers
Le Lieu Chéri
---
Our products
Calvados Pays d'Auge, Pommeau de Normandie, Cider, Perry
---
Address
20 Route de Coquainvilliers
14100 Ouilly-le-Vicomte
---
Opening hours
Monday to Saturday: from 9:00 to 12:00 and from 14:00 to 19:00
---
Contact
Alexandre et Pauline Desfrièches
Tél. : 02 31 61 11 71
contact@lelieucheri.fr
www.lelieucheri.fr
---
Languages spoken
French
---
More
Shop sales
Tours
Groups by appointment
Bed and Breakfast
Alexandre and Pauline work with great passion and a desire to practice their craft as naturally and respectfully as possible, in keeping with four generations of savoir-faire.
The Desfrièches family has been crafting delicious products at Le Lieu Chéri for four generations. The estate comprises 17 hectares of orchards, composed mainly of high stem trees. The apples are transformed into a variety of products so there is something for everyone: apple juices, ciders, vinegars, Pommeau de Normandie, Pays d'Auge Calvados, jellies… there is also a shop on the estate stocking all the products made on the farm, as well as those of neighbouring producers including beers, oils, terrines, dulce de leche…
The estate is located between Lisieux and Pont l'Evêque in the heart of the Pays d'Auge, The traditional Normandy farmhouse is surrounded by apple trees and offers a breathtaking view over the Touques valley. There is a large car park, where visitors can admire the landscape, enjoy a picnic or even park their motorhomes overnight.
The estate is open to visitors all year round (by appointment). You can come and learn all about its production processes and visit the press, the cellars, the still and the barrel halls… rounding the tour off with a tasting. The length of the tour is tailored to the visitors' interests or available time.
Bed and breakfast for one or more nights is also available.