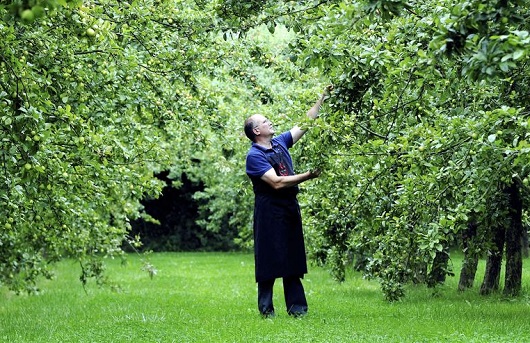 Producers
Le Père Mahieu
---
Our products
Calvados, Pommeau de Normandie, Cider
---
Address
17 bis Hameau les Mesles
50340 Bricquebosq
---
Opening hours
From 1 June to 30 Septem­ber + school hol­i­days: Monday to Sat­urday 10:00–12:00 / 14:00–18:30
The rest of the year: Tues­day, Thursday, Friday, Sat­urday 10:00–12:00 / 14:00–17:30

---
Contact
Alain Pismont
Tél. : 02 33 93 03 79
contact@leperemahieu.com
www.leperemahieu.com
---
Languages spoken
French — English — German
---
More
Shop sales
Tours
Groups by appointment
Come along and visit our organic craft cider farm and distillery in the typical setting of a 1920s farmstead.
The Père Mahieu cider farm has been pro­du­cing cider since the 1920s. After a pause during the 50s and 60s, pro­duc­tion was star­ted up again in the 80s by Émile et Jocelyne Mahieu, who replanted 5 hec­tares of orch­ards. In 2006, the farm was taken over by Alain Pis­mont and its name changed to "Cidrer­ie Le Père Mahieu". The focus was then placed on pro­du­cing the highest pos­sible qual­ity and the orch­ards were con­ver­ted to organ­ic agri­cul­ture. All the apples that go into our cider-based products come from our own orchards.
Tours in French, Eng­lish and German, last­ing 45–60 minutes, are avail­able through­out the day. During the tour, you will see the clean­ing and pro­cessing area, the ageing cellar, the Calvados cellar and the bot­tling line and will con­clude with a tast­ing of our entire range, includ­ing AOP Cotentin cider, apple juice, Calvados and Pom­meau de Normandie.
Groups tours by appoint­ment (coach park­ing available).
Access­ible to people with reduced mobility.
We are loc­ated just a few kilo­metres from La Hague, Val de Saire and the beaches.