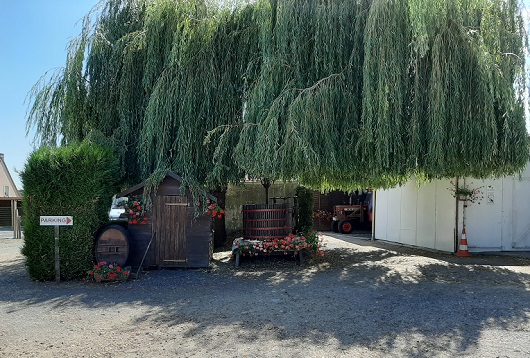 Producers
Le Pressoir
---
Our products
Calvados, Pommeau de Normandie, Cider
---
Address
29 rue du Cimetière
14370 Croissanville
---
Opening hours
Every day from 9:00 to 19:00
---
Contact
Rémy Sérée
Tél. : 02 31 23 24 75
sereeremy4@gmail.com
lepressoirdecroissanville-49.webself.net
---
Languages spoken
French — English
---
More
Shop sales
Tours
Groups by appointment
A warm welcome, quality products, an explanation of our work and a tasting of our products.
My story began in 1999 when I became a cider pro­du­cer in Crois­san­ville in the heart of the Pays d'Auge, har­vest­ing the apples by hand with my family and press­ing them in a screw press in the old tra­di­tion­al manner!
In 2001, I called on the ser­vices of a trus­ted and tal­en­ted trav­el­ling dis­til­ler to pro­duce my Calvados. As time went by, we star­ted to mod­ern­ise, buying a cider press in 2003, then our first auto­mat­ic apple har­vester in 2006.
On 1 Octo­ber 2015, my son, Axel, took over the pro­duc­tion of the ciders, apple juice and cider jelly.
Our high stem orch­ard is loc­ated one kilo­metre from the farm, and our half stem and low stem orch­ard is 13 km away. We grow over 25 cider apple vari­et­ies, with lovely evoc­at­ive names such as Doux de Nor­man­die, Bedan, Binet Rouge, Tar­dive de la Sarthe, Avrolles, Cartigny, Noël des champs, Douce Moen, etc.
We are delighted to wel­come vis­it­ors to our farm (small in size but big in talent!) for a free tast­ing of cider, Calvados and AOC Pommeau.
We are a small, friendly pro­du­cer with a lot of joie-de-vivre and soul.