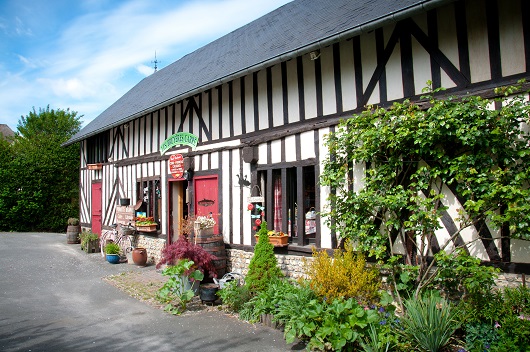 Producers
Les Bruyères Carré
---
Our products
Calvados, Pommeau de Normandie, Cider, Perry
---
Address
Route de Lieurey - D 143
14590 Moyaux
---
Opening hours
See opening times on website
or by appointment
Closed on Sundays
---
Contact
Benoit Charbonneau
Tél. : 02 31 62 81 98
cidre.charbonneau@wanadoo.fr
www.les-bruyeres-carre.fr
---
Languages spoken
French - English
---
More
Shop sales
Tours
Groups by appointment
Gîte for rental
Handed down from generation to generation, the Les Bruyères Carré farm located in Moyaux, in the Calvados department, is an authentic Normandy Pays d'Auge cider farm that is really worth a visit!
Our family-run farm is located in Moyaux, in the heart of the Pays d'auge, 4 km from Cormeilles and 15 km from Lisieux. The orchards, that can be visited all year round, are populated by high stem and low stem apple trees. They include around 10 Pays d'Auge apple varieties (Bisquet, Frequin Rouge, Bedan, Saint-Martin, etc.).
It is important to choose the right apple varieties if you wish to craft high-quality cider. Each variety has its own properties and the perfect balance is achieved through the blending of the different varieties. All of the production is processed on the farm.
Well-situated orchards, rigorous fruit selection, as well as production and storage techniques that combine traditional and modern methods guarantee products of the highest possible quality.
We have a gîte available for rental. Known as "La Cabane du Pêcheur" (the fisherman's hut), it is located near the farm and sleeps 11. We also have an area set up in the orchards that is ideal for motorhome parking.