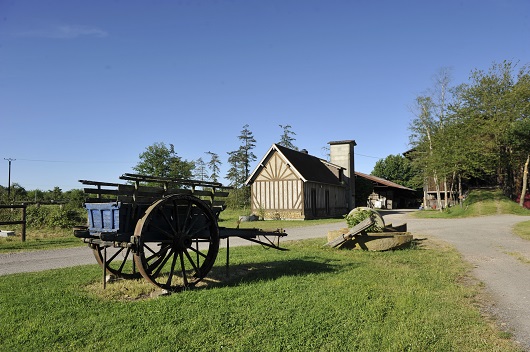 Producers
Les Vergers du Chouquet
---
Our products
Calvados, Pommeau de Normandie, Cider, Perry
---
Address
Les Bois
61120 Roiville
---
Opening hours
From March to Septem­ber; Monday to Sat­urday 14:00 — 18:00
---
Contact
Christophe Aguinet
Tél. : 06 75 51 34 63
vergers.du.chouquet@wanadoo.fr
---
Languages spoken
French — English
---
More
Shop sales
Tours
Groups by appointment
The Vergers du Choquet cider works crafts AOC/AOP products on their farm located on the Pays d'Auge hillsides. They are committed to an extensive and traditional type production.
On their farm nestled in the heart of the "Pays du Camem­bert" in the Pays d'Auge area, the Aguinet family is renowned for the excep­tion­al qual­ity of their cider apples which they grow on 19 hec­tares of high and low stem organ­ic orch­ards made up of around 30 varieties.
We pro­cess our pro­duc­tion into cider, perry, Pom­meau de Nor­man­die, Calvados, apple juice, spark­ling apple juice, pear juice, cider vin­eg­ar (recog­nised for its bene­fi­cial prop­er­ties) and cider and perry jellies.
Our products reg­u­larly pick up awards in vari­ous com­pet­i­tions, includ­ing the Salon de l'Agriculture and the Normandy Ciders com­pet­i­tion, and can be found in wine stores, crêper­ies, del­icates­sens, local pro­duce shops, res­taur­ants and at shows.