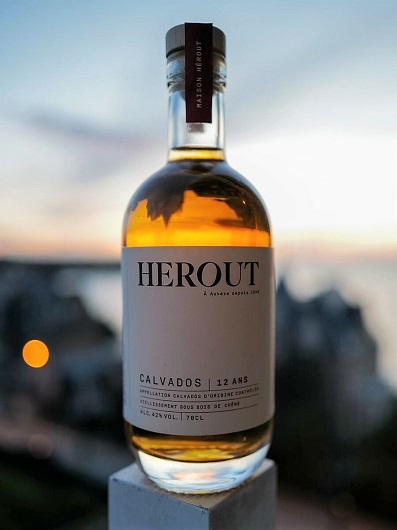 Producers
Maison Hérout
---
Our products
Calvados, Pommeau de Normandie, Cider
---
Address
36 route de Cantepie
50500 Auvers
---
Opening hours
July and August: Monday to Sat­urday 10:00 — 12:00 / 14:00 — 19:00 — Tours on Thursday afternoons.
Mid-season: Tues­day to Sat­urday 14:00 — 18:00
Low-season by appointment
---
Contact
Marie-Agnès Hérout
Tél. : +33 (0)2 33 71 07 89
contact@maisonherout.com
www.maisonherout.com
---
Languages spoken
French — English
---
More
Online sales
Shop sales
Tours
Groups by appointment
Maison Hérout was founded in Auvers, in the heart of the Le Cotentin region, in 1946. It has been a pioneer in organic cider-based production excellence since the 70s.
In 1946, newly-weds Marie-Thérèse and August Hérout moved to Auvers to pro­cess cider apples, per­petu­at­ing an already strong family tradition!
They grow and pro­cess their own fruit from orch­ards loc­ated in the heart of the Le Cotentin wet­lands (Nat­ur­al Park) that been organ­ic­ally cer­ti­fied since the 70s.
Maison Hérout is delighted to offer you its cider-based products that bear offi­cial qual­ity cer­ti­fic­a­tions such as Organ­ic Agri­cul­ture and AOP/AOC, the result of a quest for excel­lence found only in those who are pas­sion­ate about their craft.
Come and meet us and taste our 100% pure apple products at the cellar!
A full range: AOP cider, spe­cial cuvée ciders, Calvados, Pom­meau de Nor­man­die, as well as apple juice and vinegar.
Become ambas­sad­ors for our Le Cotentin region!