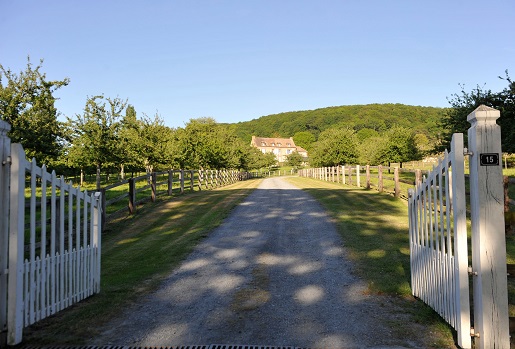 Producers
Manoir d'Apreval
---
Our products
Calvados, Calvados Pays d'Auge, Pommeau de Normandie, Cider
---
Address
5 chemin des Mesliers
14600 Pennedepie
---
Opening hours
Monday to Friday all year round and week­ends from 15 March to 15 November
From 10:00to 13:00 and from 14:00 to 18:00 (19:00 in July and August)
---
Contact
Agathe Letellier
Tél. : 02 31 14 88 24
apreval@apreval.com
www.apreval.com
---
Languages spoken
French — English — German — Spanish
---
More
Shop sales
Tours
Groups by appointment
Picnic Baskets
Cater­ing for groups
Gîte for rental
17 Pays d'Auge varieties of cider apples are planted here on 20 hectares of organic orchards located by the sea. We are a farm producing craft products in a typical Normandy setting.
20 years ago, on an estate that has always been farmed, we exten­ded the apple and pear tree orch­ards and turned our atten­tion exclus­ively to the pro­cessing of apples and pears. Pure juice, tra­di­tion­al meth­ods, nat­ur­ally spark­ling products, terroir expres­sion and respect for the land have been, and con­tin­ue to be, our guid­ing prin­ciples when we make our pro­duc­tion decisions.
Today, we pro­duce pure apple and pear juices, barrel-aged cider vin­eg­ar, 3 types of vin­tage ciders, two-year-old Pom­meau de Nor­man­die, as well as blen­ded and vin­tage Pays d'Auge Calvados.
We are delighted to wel­come our cus­tom­ers to the estate (by appoint­ment), where they will learn more about our work through tours and tast­ings and enjoy lunch in our Victor private dining room. The hos­pit­al­ity areas are sur­roun­ded by orch­ards and grassed terraces.
We are loc­ated on the charm­ing coastal road run­ning between Hon­fleur and Trouville-Deau­ville, set between the sea and the countryside.
We also ship our products to cus­tom­ers in France or abroad, with a focus on our export mar­kets. Our cus­tom­ers are dis­trib­ut­ors in spe­cial­ist dis­tri­bu­tion chan­nels, but we mainly sell direct.
We are part of the Organ­ic and Local net­work and the "Bienv­en­ue à la ferme" (Wel­come to the Farm) asso­ci­ation. We are also act­ively involved in the 'Calvados Time' events.