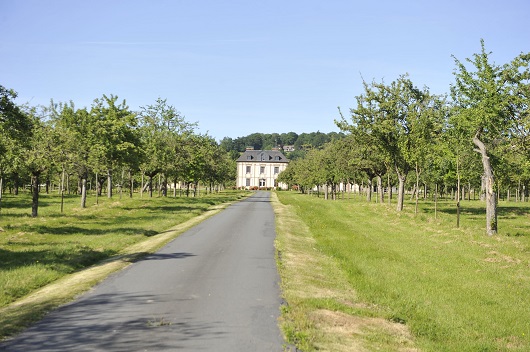 Producers
Michel Bréavoine
---
Our products
Calvados Pays d'Auge, Pommeau de Normandie, Cider, Perry
---
Address
Domaine du lieu Gosset — 504 route d'Honfleur
14130 Coudray-Rabut
---
Opening hours
Monday to Sat­urday from 8.30 to 12.00 and 13.30 to 18.30
---
Contact
Edouard Le Cain
Tél. : 02 31 64 03 28
Fax. : 02 31 64 00 24
contact@breavoine.fr
www.breavoine.fr
---
Languages spoken
French — English
---
More
Shop sales
Product tasting
Just a stone's throw from Pont l'Évêque, the Bréavoine cider farm has been processing the fruit from its 40 hectares of orchards for three generations, producing the finest ciders, Pommeau and Calvados.
Situ­ated just out­side Pont l'Évêque in the heart of the Pays d'Auge, the Michel Bréa­voine cider farm has over 40 hec­tares of cider apple orchards.
Since 1990, Michel Bréa­voine and his team have been pro­du­cing and mar­ket­ing products from the family farm's orch­ards, keep­ing a close eye on the devel­op­ment of the fruit through­out the year.
Thanks to our unique savoir-faire, we are able to get the best out of each har­vest every year to craft high-qual­ity cider-based products year after year.
The whole range is pro­duced accord­ing to the "pure juice" stand­ard. This involves taking apples that are har­ves­ted when per­fectly ripe, blend­ing the sweet and bitter vari­et­ies togeth­er, then press­ing them into pure juice.
A subtle blend of juices from dif­fer­ent apple vari­et­ies allows us to craft unique apple juices, ciders, Pom­meau and Calvados.
Our cider farm is loc­ated on the road from Hon­fleur in Coudray Rabut — Pont l'Evêque, just a few minutes drive from Hon­fleur, Trouville — Deau­ville, Cabourg and Lisieux.
We are open from Monday to Sat­urday and would be delighted to intro­duce you to our products and provide a tasting.