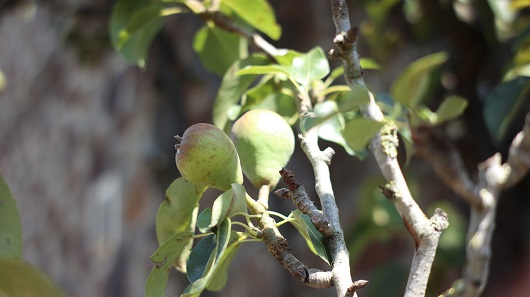 Pacory — Ferme


des Grimaux
Producers
Pacory — Ferme des Grimaux
---
Our products
Calvados Domfrontais, Pommeau de Normandie, Cider, Perry
---
Address
Les Grimaux
61350 Mantilly
---
Opening hours
09:30-12:30 / 14:00-18:00
---
Contact
Catherine, Frédéric et Simon PACORY
Tél. : 02 33 30 12 06
pacory.fermedesgrimaux@gmail.com
www.pacory.eu
---
Languages spoken
French - English
---
More
Shop sales
Tours
Groups by appointment
In Normandy, in the heart of the Domfront region, the land of the pear, our family farm produces cider-based products originating from high stem orchards where the grass is grazed by our herd of Normandy cows.
The Pacorys have been farmers in the Domfront region since the turn of the 18th century. This Bocage countryside is reputed especially for its pear trees, but also for its high stem apple trees, whose fruit is processed into cider, perry and Calvados. During the day, the cows graze in the orchards before returning to the cowshed to be milked.
The Pacroy family moved to the estate in 1939. In the face of the increase in intensive agriculture, Claude decided to focus on, and perfect, the production of Calvados from 1959. This is when he started to sell his products in bottle.
Frédéric and Catherine moved in in 1986. They continued to craft quality products using the latest techniques and building their knowledge of the different varieties grown in their orchards. Their products, particularly the Domfrontais AOC Calvados and the Domfront AOP Perry, regularly pick up awards.
But that's not the end of the story! Their son, Simon, joined the business in 2013, with the same knowledge and passion for the craft that has now been passed down over three generations.
Today, the fruit comes from the farm which extends over 140 hectares and includes 800 high stem pear trees and 400 high stem apple trees.