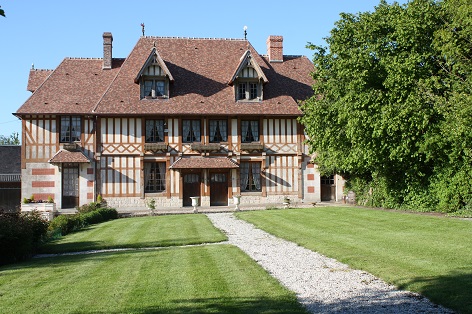 Producers
Pierre Huet
---
Our products
Calvados, Calvados Pays d'Auge, Pommeau de Normandie, Cider
---
Address
5 Avenue des Tilleuls
14340 Cambremer
---
Opening hours
Monday to Saturday 9:00 - 12:30 / 14:00 - 18:00
Sundays and public holidays from 1 April to 30 September 10:00 - 13:00 / 15:00 - 18:00

---
Contact
François-Xavier Huet
Tél. : 02 31 63 01 09
Fax. : 02 31 63 14 02
calvados.pierre.huet@wanadoo.fr
www.calvados-huet.com
---
Languages spoken
French - English
---
More
Shop sales
Tours
Groups by appointment
Catering can be arranged for groups of over 20 people.
SLocated on the "Route du Cidre" (Cider Route) in the heart of Normandy's Pays d'Auge, Domaine Pierre Huet comprises 30 hectares of orchards growing 25 varieties of cider apples. Since 2010, the distillery has been using an innovative heating system unique within the Normandy region: wood chips.
Located on the "Route du Cidre" (Cider Route) in the heart of the Pays d'Auge, between Caen and Lisieux, the Pierre Huet family estate has been combining tradition and innovation since 1865. The family has become a master of the delicate art of blending and, through the sales of its high-quality Calvados, has acquired an excellent reputation.
Its farm shop in Cambremer sells Calvados as well as ciders, Pommeau de Normandie, apple juice, crèmes and liqueur.
Crafted with a priceless savoir-faire passed down over five generations, Domaine Pierre Huet's products have been awarded several medals at the Concours Général Agricole de Paris.
During the guided tour, the different steps of the slow transformation of the apple into Calvados are explained (press, ageing cellar and distillery). Visitors enter into a world where the focus is on family tradition and quality.
The press and the wood-heated still are fascinating, of course, but it is in the cellars containing the 100-year-old barrels where you will be captivated by the subtle and delightful fragrances. Delectable aromas, sweet scents, fruity and woody nuances… you will taste all the wonders that the Pays d'Auge has to offer!