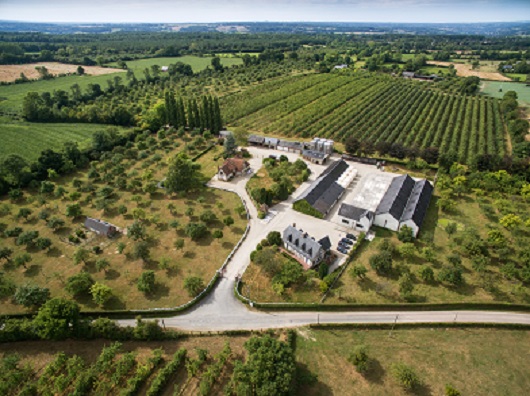 Producers
Roger Groult
---
Our products
Calvados Pays d'Auge, Cider
---
Address
Clos de la Hurvanière
14290 Saint-Cyr-du-Ronceray
---
Opening hours
Monday to Friday — Tours at 10:00 and 14:00
July and August (except public hol­i­days) from Monday to Sat­urday — Tours at 10:00, 11:30, 13:00, 14:30.
---
Contact
Jean-Roger Groult
Tél. : +33(0) 231 63 71 53
Fax. : +33(0) 231 63 90 77
contact@calvados-groult.com
www.calvados-groult.com
---
Languages spoken
French — English
---
More
Shop sales
Tours
Groups by appointment
Our family dis­til­lery, cre­ated by Pierre Groult in 1960, has been passed on from father to son for five gen­er­a­tions. Whilst the tra­di­tion­al Calvados pro­duc­tion meth­ods have been pre­served, includ­ing 100% nat­ur­al fer­ment­a­tion of the cider and double wood-fired dis­til­la­tion, the Groult family has always done everything it can to enhance its man­u­fac­tur­ing pro­cesses and to craft the finest eau-de-vies.
You will see the modern press, the 3 antique copper stills, and above all, our majest­ic ageing cel­lars where 400 bar­rels and foudres (from 100 litres to over 13,000 litres) are used for the ageing of our Calvados.
Our dis­til­lery and our 27 hec­tares of orch­ards are loc­ated in Saint-Cyr du Ron­ceray, in the heart of the tri­angle formed by Lisieux (13km, Sainte Thérèse Basilica), Orbec (12km, medi­ev­al vil­lage, access to the A28 motor­way), and Livarot (18km, Gran­dorge cheese dairy).